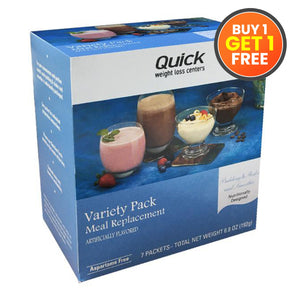 Contains a variety of delicious flavors to satisfy all of your cravings:

Berry Créme Smoothie
Chocolate Pudding & Shake
Chocolate Mint Pudding & Shake
Dark Chocolate Pudding & Shake
Mocha Pudding & Shake
Strawberry Créme Smoothie
Vanilla Pudding & Shake

For your convenience and portion control, each pudding & shake, and smoothie is individually packaged. See packet for individual preparation instructions. Contents may vary based on availability.
Q-Snacks are nutritionally optimized to work synergistically with and to complement the Quick Weight Loss system. Benefits of Q-Snacks:

- Can increase energy
- Can decrease hunger
- Add variety to your diet
- Taste great
- Help maintain satisfaction throughout the day

All Quick Weight Loss Centers products are proven safe and effective. Always check with your Weight Loss Specialist on which products you need for your phase of weight loss.