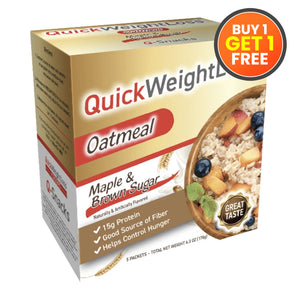 Maple & Brown Sugar Oatmeal: sweetly satisfying oats with maple and brown sugar, perfect for breakfast or snack.
Q-Snacks are nutritionally optimized to work synergistically with and to complement the Quick Weight Loss system.
Benefits of Q-Snacks:
- Can increase energy
- Can decrease hunger
- Add variety to your diet
- Taste great
- Help maintain satisfaction throughout the day
Packaging may vary.
Ingredients:
Rolled Oats, Soy Protein Isolate, Textured Soy Flour, Potassium Caseinate, Whey Protein Isolate, Maltodextrin, Corn Syrup Solids, Salt, Modified Cornstarch, Resistant Maltodextrin, Gum Arabic, Natural and Artificial Flavors, Caramel Color (Contains Sulfites), Dipotassium Phosphate, Soy Lecithin, Molasses, Sucralose, Dextrose, Acesulfame-K, Sugar. Contains: Soy and Milk.
Nutritional Information
Serving Description:5 svg/bx, 40 bx/cs, 200 svg/cs
Calories:120
Protein:15 g
Total Carbohydrates:15 g
Fiber:3 g
Available Carbohydrates:12 g
Sugar:1 g
Fat:1.5
Sodium:200 mg
Potassium:340 mg
Calcium:40 g

Kosher
Aspartame Free
Gelatin Free
Lactose Free